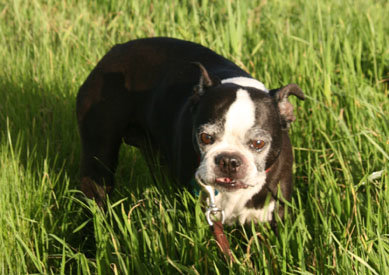 This is my Boston Terrier Penny Lane, AKA "P-Dog." She was born in Colorado in mid-1998 and is 11 1/2 years old. My Mom got her as a puppy, and she lived with my Mom and two adult Boston Terriers (Pugsley and Chardonay) until they passed away from old age. My mom then adopted a rather rotund Beagle that she named Maggie May as a playmate for Penny. After my Mom passed away in 2001, my Dad took Penny Lane for the next 3 1/2 years and she lived with him in Reno, Nevada. I've had Penny Lane since October 2004. She loves riding in the truck, and readily assumes her spot in the "co-pilot's seat when we go for a ride.

The trip is set in motion.

On Christmas Day 2009, I was talking with my ex-wife and I agreed to deliver her doggy Francesca, a Dachsund, to Sacramento for her to give to her Mom. We set a tentative date of January 10th and I eventually arranged the time off from work for the road trip. I'd driven the route MANY times during the 90s, but not since then. At the time, I always stopped at Mojave Airport to check out the stored airliners, and I was aware there was a railroad across the same route between Mojave and Bakersfield, but I never considered stopping for any train photography.



Francesca, the white Dachsund, with Tinker Bell the Chihuahua looking over things.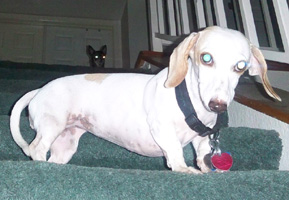 In a little bit of irony, in 1992 I was on a road trip for the very same reason (delivering a Dachsund to Sacramento) and I was with my photography buddy Greg Drawbaugh. I'd picked him up in Orange County and was also "delivering" him home to Sacramento. We stopped at Mojave for a few hours and while driving across Highway 58 we stopped in Tehachapi for lunch. He mentioned "The Loop" but we made no attempt at a visit. My goal was to get us to Sacramento and deliver Gretchen (the Dachsund) and get Greg home safely. Mission accomplished, by the way.


---
Fast forward 18 years.

Now that I've been a railfan for the past 11 years I was looking forward to the drive across Highway 58 and make my first visit to the Tehachapi Loop. I'd seen many photos of the place and read about it since becoming a railfan but I'd never made the time for a trip. Sunday January 10th finally arrived and Penny, Francesca and I hopped in the truck and rolled out of Phoenix at about 6:30am. It wasn't until I was actually in the truck and on the road that I decided which route to take west. I made a decision to head up to Kingman on Highway 93 and then west on I-40 through Needles, Barstow, and Mojave to get to Tehachapi. For a railfan, this should have been a no-brainer from the start as the highways parallel railroad tracks for the majority of the way.

Our first stop for a "doggie break" was at Kingman. The weather was partly cloudy and we pulled in behind the McDonald's alongside the BNSF mainline. We didn't have long to wait for our first train...a westbound unit tank train. After gassing up, we headed west towards downtown Kingman so I could drive through the short, but scenic Kingman Canyon. I've made several trips to Kingman and the canyon is always on my list of spots to watch trains. Not long after passing under I-40, we saw our next train, an eastbound manifest with a couple of Norfolk Southern "ponies" in the consist. For the record, I didn't take any photos of any of the trains I saw all the way to Barstow, as time was a factor and I was on the "wrong" side of the tracks for any decent sun-lit shots. Besides, there was hardly any sun because of the clouds. I just enjoyed watching the trains and logging the numbers down. Enroute to our next stop at Needles, California I saw a couple more trains and stopped alongside the interstate to log the numbers. Approaching the bridge at Topock, I was hoping to see a train making the river crossing, but it wasn't to be. However, much to my chagrin, not long after we crossed the river, I caught sight of the freight cars of an eastbound manifest in a cut right alongside the interstate. Had I been just a minute or two later, I'd have seen this one crossing the bridge. Oh well, can't have it all. On the approach into Needles, I caught up with the unit-tank train I'd seen earlier in Kingman. I found the exit for Business 40 and took it, as this is very close to the small BNSF yard and engine facility in Needles. I made my way around to the north side of the yard and stopped next to the golf course to give the doggies a chance to stretch their legs and take a nature break. I logged the locomotives and after grabbing some breakfast, we hit the road for the fairly long drive to Barstow.

By now, the clouds had broken and bright mid-morning sunshine was all around. Between Needles and Barstow, the BNSF tracks diverge away from I-40 for much of the route due to terrain. An hour or so into the westbound trip, they converge back towards I-40 and once again, I was logging numbers on the fly. Before long, I was on the approach to Daggett, the next big town before Barstow. I could see the tracks off to my right (we'd crossed over them at some point), so I took the first available exit. There was a westbound Union Pacific train already rolling across a grade crossing, so I positioned myself to grab the two helpers. In short order, an eastbound UP train was approaching from the left so I got some quick grab shots of the five leading locomotives. This lengthy manifest kept of rolling past and revealed a single mid-train helper. Just a few moments later just as I was getting ready to leave and get back on the I-40, I saw the headlights of yet another eastbound, so I stayed put. This one turned out to be the BNSF "Cadiz Local" with three "Geeps" and a D8-40BW for power. OK, now it was time to hit the highway for the short drive to Barstow and get serious about logging some BNSF locomotives.



A few trains at Daggett, CA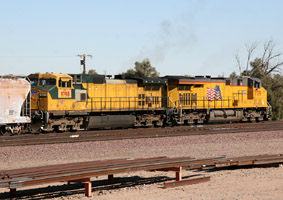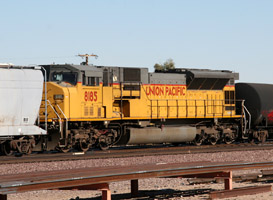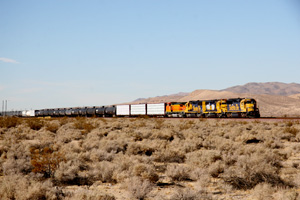 ---
I've been through Barstow a few times but it had been nearly 10 years since my last visit. I remembered the basic layout of this massive yard and knew I'd be restricted to seeing what I could see from the elevated surface streets. Business 40 runs along the south edge of the yard and provides a satisfactory view of much of the action. There are several places with waste ground where you can pull off and check things out. The west end of the yard is where you'll find most of the locomotives parked awaiting maintenance or assignment. At the east end of the yard, right behind an auto dealership, is a short access road that leads to the "knoll" that gives an impressive, slightly more elevated view of the yard. After snapping some photos at the west end, I drove back to the east to gas up and then back to the "knoll" for some final shots of the yard. To say the least, this yard is massive and there are trains, freight cars, and locomotives just about everywhere you look. The drawback is that you can only manage to record a small fraction of the action, so I settled with what I could get. Bright sun, BNSF, and Barstow...I was satisfied and decided to hit the highway again for the next stop: Mojave.



A few photos of the BNSF classification yard at Barstow, CA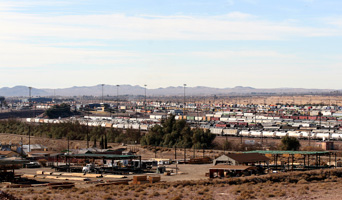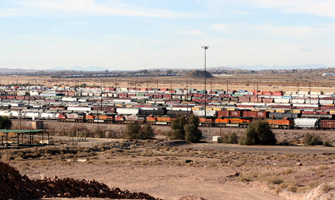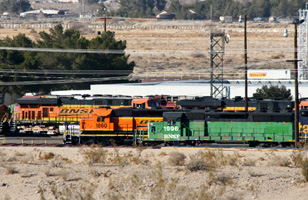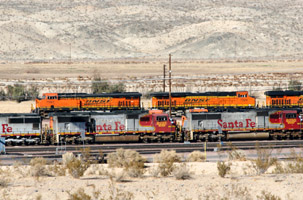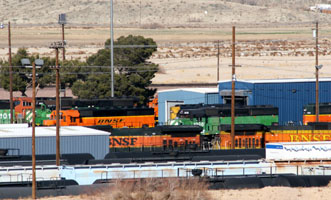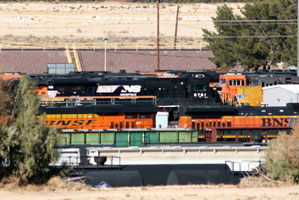 ---
Mojave is situated on the eastern side of the Tehachapi Mountains and is at the junction of the Union Pacific and BNSF lines. The town is also the site of Mojave Airport, a destination in its own right for many aviation enthusiasts. Somewhere past "Four Corners" (junction of 58 and 395) I stopped for a nature break for the pups and myself and within short order a hot-shot westbound BNSF stack train was high-balling towards Mojave. With more than twenty miles to Mojave, I had a pretty good chance of catching up with and passing it so I wasn't worried about the train beating me to Mojave. Back on the highway I was cruising along at 70mph and just barely making headway against the train...this guy was moving! Eventually I passed the stack train and was on the outskirts of Mojave.



A couple of pix of the Mojave, CA Airport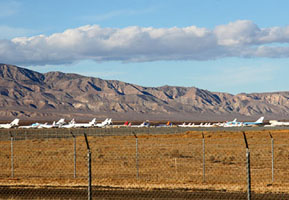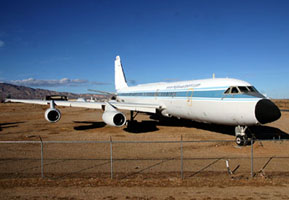 Looming in the shadow of the town, I could see a large number of stored airliners. Had this been twelve years ago, the airport would have been my first stop and trains would have been the last thing on my mind. But my priorities have changed somewhat so I made a brief stop at the airport for a few quick grab shots. I also saw the airport had a new "gate guard" in the form of a NASA Convair 990, so I definitely got a couple shots of this classic bird, while all but ignoring the F-4 Phantom parked next to it. Besides, the stack train was coming into town and I wanted to log the numbers before it headed up the hill to Tehachapi.



Train stuff at Mojave Airport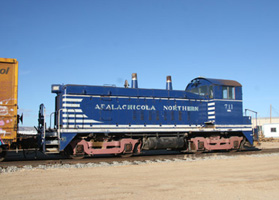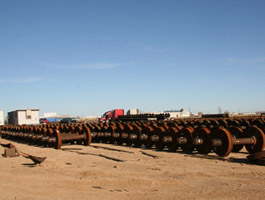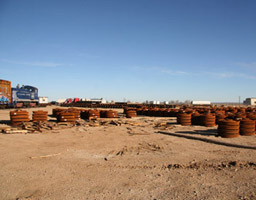 ---
Ok, so I decided to spend a little more time at the airport. While driving into town, I noticed a blue switch engine sitting on the airport grounds. I made my way to it and found it lounging among a virtual sea of railroad freight car wheels and wheelsets. I snapped the obligatory "roster shot" of the locomotive and a few of the tattered-looking boxcars that were attached to it. I also grabbed a few shots of some of the stored airliners on the west side before hitting Highway 58 for the short drive up to Tehachapi. It was getting pretty late in the day so I would probably have to foregoe looking for the Loop this time. However, the BNSF stack train was just heading out of Mojave so I looked for a place to get a photo. I decided to stop just past the large sweeping curve the Union Pacific makes as it enters the mountains. I pulled off the side of Highway 58 and waited for the slow-moving train. Again, I was on the "wrong side" but with the curve at least the nose of the lead unit would have some late-afternoon sunshine on it.



The westbound BNSF stack train climbing out of Mojave; fog on the western slope of the Tehachapis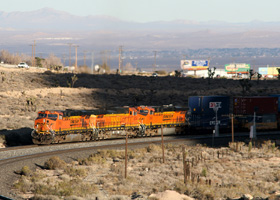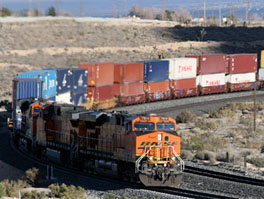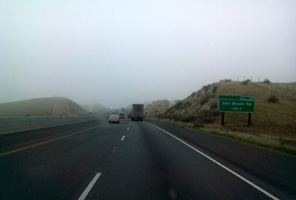 ---
At the Summit of the Tehachapis I decided to stick with the plan and just roll on through, hoping I'd make it back through Tehachapi on the return trip in a week. As I made my way down the western slope, clear skies turned to "Tule Fog" so I adjusted accordingly. Before hitting the fog, I noticed a train down below going through a tunnel portal. Neat! It just whetted my appetite to explore Tehachapi, but I'd have to wait. By the time I got to Bakersfield proper, it was almost dark but as I left town on Highway 99 North, I caught a Union Pacific GP60 parked at one of the numerous track-side industries I'd eventually pass on the way up to Sacramento.

"Doggie Delivery" was made about 9:30pm Sunday night. I found a pet-friendly motel in Sacramento after I explored the Union Pacific Roseville yard. I've been to this yard many times after initially discovering the place in the late '90s. The perimeter of the northeastern portion of the yard is quite locomotive-friendly and many units can be read off or photographed during a visit. I didn't take any photos during this visit since it was nearly midnight. I made my way to the motel to get some much needed sleep. It was after all a very long day.

Early Monday morning I was up and off to visit my Grandmother for a couple hours. She lives over by the former Mather AFB so I had to drive across town to get to her place. I'd told her a couple weeks earlier that I'd be coming for a visit so she was pleased to get my call telling her I was on my way. After our visit I got on Highway 50 East and eventually made my way back over to Interstate 80 for the drive to Reno. I passed on another visit to the Roseville yard knowing that I'd be back down this way on Tuesday with my Dad. Weather over Donner Summit was fair and the drive was easy considering it was mid-January. I got lucky.

I decided to stop in Truckee, CA and see what UP units might be positioned for snow duty. The Geeps stationed here have icicle breakers above the cab to help in clearing out the tunnel portals during the Winter. I was pleased to find two sets of Geeps standing by. I was just about ready to leave when I heard a train horn to the east, so I stood my ground, despite the chilly weather. Within a few minutes the sound of diesel prime movers hard at work filled the air. A Westbound Union Pacific stack train was working up the grade into Truckee so of course I snapped a few photos of it. Turns out it had two lead units and a single unit on the rear in "helper" mode. I also snapped a photo of a railroad Jordan Spreader.



Trains at Truckee, CA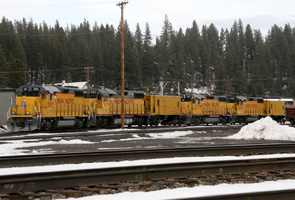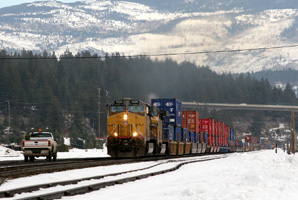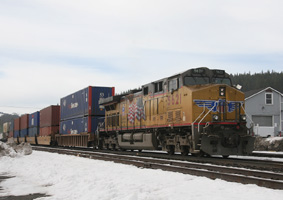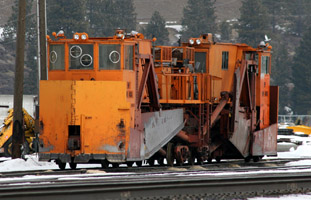 ---
Page Two