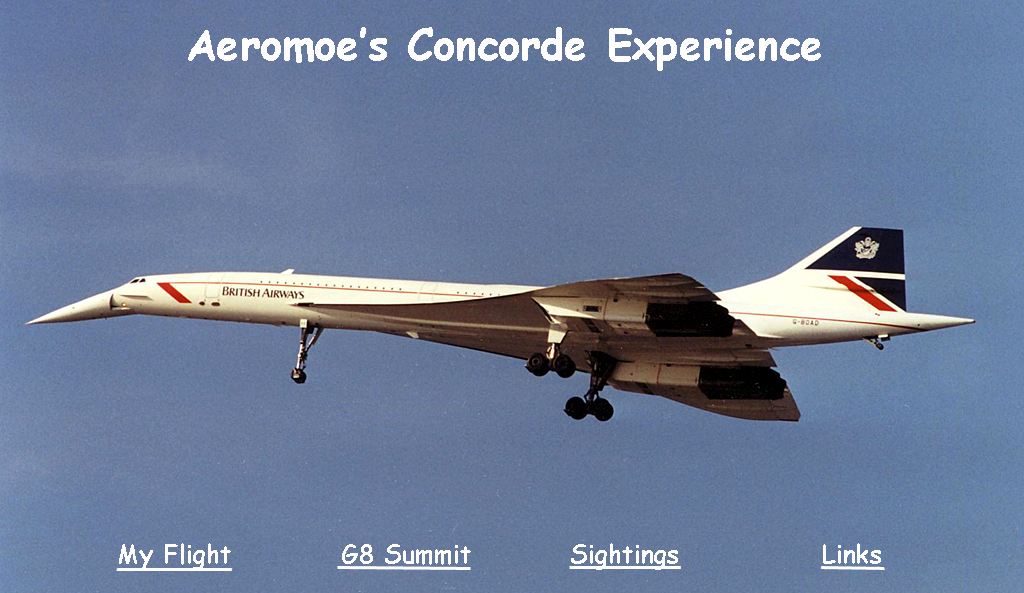 ---
Concorde The Anglo-French Concorde supersonic airliner has always been one of my favorite aircraft. The first time I saw a Concorde was in June 1980 at New York's JFK airport. My dad and I had made a trip from the west coast to New England, passing through JFK each way. During the return trip we stayed at JFK all day and Air France Concorde 101 F-BTSC was present. (Note: F-BTSC was the Concorde used in Airport '79 as well as the one unfortunately destroyed on July 25th, 2000). I also photographed a British Airways Concorde taking off. No idea which one it is.



F-BTSC
JFK 22 Jun '80

F-BTSC
JFK 22 Jun '80

F-BTSC on 22R
JFK 22 Jun '80

Un-ID'd BA on 22R
JFK 22 Jun '80
---


It would be another two years before seeing Concorde again, when during another trip to New England in June 1982, I spent some more time at JFK. On June 1st, 1982 British Airways G-BOAC was present along with Air France F-BTSD. On June 5th, 1982 I saw Air France F-BVFC and F-BVFF. Viewing takeoffs from the top of the Pan Am Worldport parking garage was always exciting as Runway 31L was about 1,000 feet away.



F-BTSD
JFK 5 Jun '82

F-BTSD on 31L
JFK 5 Jun '82

F-BTSD on 31L
JFK 5 Jun '82

F-BTSD on 31L
JFK 5 Jun '82
---


During August 1982, I spent five days in the vicinity of JFK and visited the airport for five days straight. This was during the time the rooftop parking lot on the Pan Am terminal was one of the premier aircraft observation locations just about anywhere.


---


In 1985 I moved to England for three years. During the initial trip to London I spent a couple days in New York with an airplane buddy of mine. We visited JFK and on December 30th, 1984 British Airways G-BOAA graced us with her presence. When I arrived London's Heathrow airport (LHR) after my overnight flight on TWA, I observed British Airways G-BOAB. On January 19th, 1985 I saw G-BOAE at LHR and on May 18th, 1985 I rounded out the British Airways Concorde fleet with G-BOAG.


---
My flight aboard Concorde

Shortly after arriving England, I learned about the Concorde Fan Club and the opportunity to fly aboard Concorde for a much cheaper fare than it costs to cross the Atlantic on Concorde. I was able to sign up for the next flight - a supersonic "tour" for 300 U.K. Pound Sterling. When I paid for the flight, the exchange rate against the U.S. Dollar was $1.13 so I paid $339 for the flight - a real bargain for such a rare opportunity.

Flight day was February 24th, 1985 with British Airways flight 9080C operating from Heathrow Terminal 1. The flight plan would have us depart from Heathrow and travel westward while climbing to over 56,000 feet. We would travel through the Bristol Channel, around "Lands' End" at the far southwestern tip of England and do a 180 degree turn to the left so we were flying east. Travelling supersonic through the English Channel, we would eventually descend while turning north for our eventual arrival back at Heathrow about 75 minutes after takeoff. I'm not sure of the exact flight path so I've made an approximation below.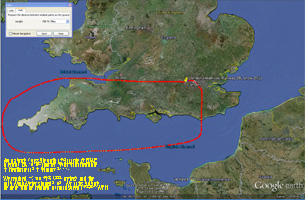 Possible Flight Path As was becoming the norm for me, I caught the bus from Alconbury to the Huntingdon British Rail station for my train ride down to London Kings Cross. From Kings Cross it was a trip on the London Underground out to Heathrow. At Heathrow, I made my way to Terminal 1, which I had been in two weeks earlier during a round-trip to Manchester on British Airways Tridents.

I don't remember much about the atmosphere in the boarding area prior to the flight. G-BOAE was parked near the gate and at boarding time we used air stairs versus a jet way. Thankfully the weather was quite nice for a February and I was able to take some open-air photos of Concorde as we boarded. I was even allowed out of the boarding queue so I could get a photo of G-BOAE from the opposite side, which was the sun-lit side. Unfortunately, the catering truck was in place and blocked some of the aircraft.

I was probably as excited as I'd ever been as I settled into my assigned window seat. It was supposed to be a full flight - there were 99 other passengers on board with me. Apparently members of the Royal Air Force "Red Arrows" aerobatic team were onboard as well as a lady celebrating her 100th birthday. I was barely 20 years old and probably among the youngest of the passengers.

As I type this paragraph in February 2013 I just did a search on Airliners.net and found two photos from the day of the flight.I have sent an email off to the photographer commenting on his photos and asking if he has any additional photos. Happily, he responded back to me within hours and said he'd be happy to forward any photos he may have from the occasion.

The flight originated from Runway 28L (since designated 27L) for the westward departure. When the afterburners kicked in there was a definite sensation of an extra "kick" as the takeoff progressed. Once airborne I could finally say to myself "I'm flying on Concorde!"

Despite having a window seat there was not much to photograph outside the plane. The windows on Concorde are quite small compared to contemporary sub-sonic airliners. I snapped a few photos of the cabin area from my seat and since I had a clear view of the "Mach Meter" on the cabin bulkhead, I decided I'd keep track of our speed progress. My notes start at Mach .60 at 3:43 into the flight. We hit Mach 1 at 19:20 elapsed time shortly after passing through 28,000 feet. Mach 2 came at 27:05 elapsed time at 50,000 feet. We eventually reached 56,500 feet and a ground speed of 1,365 miles per hour. Pretty damn cool.

We were served a light snack as well as some champagne. The caviar with the snack was the first time I'd ever eaten caviar and it was ok. We were also offered a visit to the flight deck. Who can resist a visit to a flight deck while inflight? Not me! Of course, the visor was up and the view was limited, but the view is unique to Concorde so I didn't complain one bit.

Back in the cabin I sweet-talked a stewardess into letting me take the china place setting with me. In the photo below you can see what souvenirs I managed to bring home from the flight. The 1/200 scale "Wooster" snap-together Concorde display model was a nice little touch and I'd have been happy with just that. As I write this in 2013 I'm not sure how much of the china I still have but I have all the ticket jacket stuff, the model, and the certificate.

Photos from my Concorde Flight


| | | | | | | |
| --- | --- | --- | --- | --- | --- | --- |
| G-BOAE nose gear | G-BOAE wing and tail | G-BOAE nose | G-BOAE interior | G-BOAE flight deck | G-BOAE at Mach 2.01 | G-BOAE at Mach 2.02 |
| Supersonic Timeline | Impressive snack on Concorde | Takeaway goodies | G-BOAE at the gate | . | . | . |


I obtained the following photos in February 2013 from Ian Kirby, a chap whose father Eric flew onboard the same flight as I did. Ian has greatfully allowed me to post these photos on this website. Ian photographed Concorde from the viewing terrace on Terminal 2 while his father took the photographs of the flight.

These treasured photos provide two more perspectives to this journey that I couldn't possibly have found without Airliners.net



G-BOAE pushed back
from Terminal 1

View from Queens Building
Terminal 2

G-BOAE in the takeoff queue

G-BOAE in the takeoff queue

G-BOAE rolling for takeoff

G-BOAE rolling for takeoff

A little "Red Arrows" smoke trail

G-BOAE on final approach

G-BOAE on final approach

Main wheels down!

View from Queens Building
Terminal 2
.
---


During the next three years I made numerous aircraft photography trips to LHR as well as many other airports in England. Concorde always seemed to draw a crowd when taking off or landing. Due to the timing of the flight schedules, I saw Concorde departing for the USA more often than arriving.


---


One of my trips to Heathrow for plane watching was in early December 1985. I was out at the end of runway 28R and caught G-BOAC departing.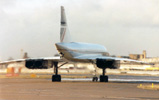 G-BOAC 7 Dec '85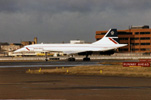 G-BOAC 7 Dec '85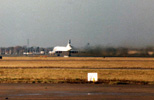 G-BOAC 7 Dec '85
---


Christmas Eve 1985 I was down at Heathrow watching planes and managed to wander over by the British Airways engineering base. Five Concordes were present: four in the newest color scheme and one in the older scheme. Below are several phtotos of them.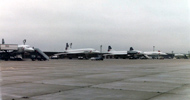 Five Concordes at LHR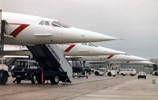 Concorde Noses


G-BOAF
---


In August 1986 I travelled cross-country by train to the town of Dudley. I stayed with friends I met and we attended the air display at the RAF Cosford museum. G-BOAD made a flypast in dismal weather and despite the conditions I got a couple photos.




G-BOAD turning final.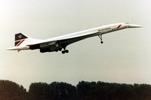 G-BOAD during the fly-by.
---


Of the Concordes that were never delivered to either Air France or British Airways, I was able to see several of them on display. G-AXDN is on display at the Duxford museum and I first saw her on March 10th, 1985. In June 1985 I made a coach trip to Paris for the Paris Air Show. I was travelling with a group of aviation enthusiasts and we saw F-WTSA at Paris Orly airport and F-WTSS at LeBourget Airport.

G-BSST is on display at the Royal Naval Air Station Yeovilton and I saw her during a visit with the Civil Air Patrol on April 26th, 1987. This trip was also a great opportunity to visit Stonehenge.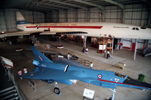 G-BSST


G-BSST


G-BSST

G-BSST


G-BSST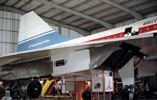 G-BSST
---


In 1987 I saw British Airways Concorde G-BOAG at Miami.


---


After leaving England in January 1988 I didn't see Concorde on many more occasions, save the occasional visit to either JFK or Washington Dulles.
---


In 1993 Air France operated a Concorde charter into Reno, Nevada. My dad and I were on hand to witness the landing and then the takeoff the next day. Later in 1993, I was in Reno for a small airline collectibles show at a local hotel. My dad was in business for himself making small redwood boxes for local casinos. We took the opportunity to create a special silkscreened Concorde logo for several of the boxes. We sold some of them at the show and donated a few as door prizes.


---


In 1994 I spent six months in the middle east. On the trip over I flew via Washington Dulles and I was treated to Concorde while I was waiting for my flight to Frankfurt. On the return trip, I spent a couple of days in London and saw Concorde on several occasions.

Ironically, the only photos I could locate of Concorde were of the 40% scale model (G-CONC) near Heathrow Airport.
This model is now on display at Brooklands Museum.


| | |
| --- | --- |
| Heathrow Aug '94 | Heathrow Aug '94 |
---


In 1997 the 23rd Global Summit was held in Denver, Colorado. A British Airways Concorde was present. Of the other nations attending the summit, the Russians brought an IL-96 and IL-76; France brought an A310; Japan brought two 747-400s; Italy brought a Falcon; Germany brought an A-310; Canada brought an A-310 and the USA brought a VC-25A. I believe the European Union brough the two French Falcon jets. It was great seeing all these foreign aircraft in Denver and finally watching Concorde depart from Denver's two-year-old International Airport. Denver was one of the few airports Concorde didn't serve on a scheduled basis where I observed Concorde.


---
Photos from the June 1997 Denver G8 Summit
| | | | | |
| --- | --- | --- | --- | --- |
| | | | | |
| G-BOAF rolling for takeoff | G-BOAF departs Denver | . | . | . |
| . | . | . | . | . |
| . | . | . | . | . |
---


In July 1998 I made a trip to the east coast. After landing in Charlotte, NC I made a road trip all up the eastern seaboard and around New England before returning to Charlotte. During the trip I stopped at JFK for a couple days and watched Concorde operations. This was most likely the last time I saw Concorde fly.



G-BOAE
JFK 21 Jul 98

G-BOAE
JFK 21 Jul 98

G-BOAE & G-BOAC
JFK 21 Jul 98

F-BVFC JFK
22 Jul 98
.
.
.
.
.
.
.
.
.
.
---


Most recently, I visited the Museum of Flight at Boeing Field, Seattle, Washington in 2012. British Airways G-BOAG is on display there and open for visitors. I made a point of walking through the aircraft. This is the only Concorde I've seen since the type was retired from service.
---
Concorde Sightings:


Date
Airport
Airline
Regy
Times Seen
Photo?
Notes
22 Jun 80
JFK
AF
F-BTSC
1
My first Concorde sighting
(Note: Used in movie: Airport 1979)
(Note: W/O nr CDG 25 July 2000)
22 Jun 80
JFK
BA
?
Didn't get reg
01 Jun 82
JFK
AF
F-BTSD
1
.
.
01 Jun 82
JFK
BA
G-BOAC
1
.
05 Jun 82
JFK
AF
F-BTSD
2
.
05 Jun 82
JFK
AF
F-BVFC
1
.
.
05 Jun 82
JFK
BA
G-BOAC
2
.
.
05 Jun 82
JFK
AF
F-BVFF
1
.
.
21 Aug 82
JFK
AF
F-BVFF
2
.
.
21 Aug 82
JFK
BA
G-BOAC
3
.
.
21 Aug 82
JFK
BA
G-BOAF
1
.
.
22 Aug 82
JFK
BA
G-BOAC
1
.
.
22 Aug 82
JFK
AF
F-BVFF
4
.
.
22 Aug 82
JFK
BA
G-BOAD
1
.
.
22 Aug 82
JFK
AF
F-BVFA
.
.
22 Aug 82
JFK
AF
F-BVFB
1
.
.
23 Aug 82
JFK
AF
F-BVFA
.
.
24 Aug 82
JFK
AF
F-BTSC
.
.
24 Aug 82
JFK
AF
F-BVFF
.
.
24 Aug 82
JFK
AF
F-BVFC
.
.
25 Aug 82
JFK
AF
F-BVFA
.
.
25 Aug 82
JFK
AF
F-BVFC
.
.
30 Dec 84
JFK
AF
F-BTSD
.
.
.
30 Dec 84
JFK
AF
F-BVFA
.
.
.
30 Dec 84
JFK
BA
G-BOAA
.
.
.
31 Dec 84
JFK
AF
F-BTSD
.
.
.
31 Dec 84
JFK
BA
G-BOAC
.
.
.
02 Jan 85
JFK
AF
F-BVFF
.
.
.
02 Jan 85
JFK
BA
G-BOAA
.
.
.
03 Jan 85
LHR
BA
G-BOAB
.
.
.
12 Jan 85
LHR
BA
G-BOAA
.
.
.
12 Jan 85
LHR
BA
G-BOAB
.
.
.
19 Jan 85
LHR
BA
G-BOAE
.
.
.
02 Feb 85
LHR
BA
G-BOAE
.
.
.
02 Feb 85
LHR
BA
G-BOAD
.
.
.
24 Feb 85
LHR
BA
G-BOAE
.
.
Flew on as BA 9080C Concorde Fan Club flight
02 Mar 85
LHR
BA
G-BOAC
.
.
.
02 Mar 85
LHR
BA
G-BOAD
.
.
.
10 Mar 85
Duxford
.
G-AXDN
1
Imperial War Museum
23 Mar 85
LHR
BA
G-BOAD
.
.
.
23 Mar 85
LHR
BA
G-BOAC
.
.
.
31 Mar 85
Duxford
.
G-AXDN
2
.
Went aboard
05 Apr 85
LHR
BA
G-BOAC
.
.
.
04 May 85
LHR
BA
G-BOAA
.
.
.
04 May 85
LHR
BA
G-BOAB
.
.
Plus one more in hangar
18 May 85
LHR
BA
G-BOAF
.
.
New colors (N/C)
18 May 85
LHR
BA
G-BOAC
.
.
Old Colors (O/C)
18 May 85
LHR
BA
G-BOAG
.
.
N/C
18 May 85
LHR
BA
G-BOAE
.
.
O/C
08 Jun 85
CDG
AF
F-BVFA
.
.
.
08 Jun 85
ORY
.
F-WTSA
.
.
.
13 Jul 85
Fairford
BA
G-BOAG
.
N/C; formation flight with Red Arrows
10 Aug 85
LHR
BA
G-BOAG
.
.
N/C
10 Aug 85
LHR
BA
G-BOAC
.
N/C
31 Aug 85
LHR
BA
G-BOAA
.
.
N/C
31 Aug 85
LHR
BA
G-BOAF
.
.
N/C
07 Sep 85
LHR
BA
G-BOAG
.
.
N/C
07 Sep 85
LHR
BA
G-BOAF
.
.
N/C
07 Sep 85
JFK
AF
F-BVFF
.
.
.
07 Sep 85
JFK
BA
G-BOAE
.
.
O/C
02 Nov 85
LHR
BA
G-BOAD
.
.
O/C
02 Nov 85
LHR
BA
G-BOAF
.
.
N/C
07 Dec 85
LHR
BA
G-BOAC
.
N/C
07 Dec 85
LHR
BA
G-BOAD
.
.
O/C
07 Dec 85
LHR
BA
G-BOAB
.
.
O/C
07 Dec 85
LHR
BA
G-BOAA
.
.
N/C
07 Dec 85
LHR
BA
G-BOAG
.
.
N/C
24 Dec 85
LHR
BA
G-BOAG
.
.
N/C
24 Dec 85
LHR
BA
G-BOAA
.
.
N/C
24 Dec 85
LHR
BA
G-BOAC
.
.
N/C
24 Dec 85
LHR
BA
G-BOAF
.
.
N/C
24 Dec 85
LHR
BA
G-BOAE
.
.
O/C
22 Mar 86
LHR
BA
G-BOAD
.
O/C
26 Apr 86
LHR
BA
G-BOAD
.
.
O/C
28 Jun 86
LHR
BA
G-BOAE
.
.
N/C
28 Jun 86
LHR
BA
G-BOAF
.
.
N/C
03 Aug 86
Cosford
BA
G-BOAD
.
Fly Past Display
02 Nov 86
LHR
BA
G-BOAA
.
N/C
29 Dec 86
LHR
BA
G-BOAG
.
N/C
18 Jan 87
LHR
BA
G-BOAE
.
.
.
21 Jan 87
IAD
BA
G-BOAC
.
.
N/C
12 Feb 87
MIA
BA
G-BOAG
.
.
N/C
28 Feb 87
LHR
BA
G-BOAC
.
.
.
22 Mar 87
LHR
BA
G-BOAE
.
.
.
26 Apr 87
Yeovilton
.
G-BSST
1
Went aboard
13 Jun 87
LHR
BA
G-BOAB
.
.
N/C
10 Jul 87
LHR
BA
G-BOAG
.
.
N/C
19 Jul 87
LHR
BA
G-BOAB
.
.
N/C
19 Sep 87
Duxford
.
G-AXDN
3
.
Went aboard
18 Oct 87
LHR
BA
G-BOAE
.
.
N/C
18 Oct 87
LHR
BA
G-BOAB
.
.
N/C
01 Jan 88
LHR
BA
G-BOAF
.
.
N/C
07 May 93
RNO
AF
F-BVFA
.
.
Charter flight; AF 4890 Heavy
08 May 93
RNO
AF
F-BVFA
.
.
Charter flight
18 Feb 94
IAD
BA
G-BOAG
.
.
N/C
13 Aug 94
LHR
BA
G-BOAE
.
.
N/C
13 Aug 94
LHR
BA
G-BOAD
.
.
N/C
13 Aug 94
LHR
BA
G-BOAA
.
.
N/C
14 Aug 94
LHR
BA
G-BOAC
.
.
N/C
15 Aug 94
LHR
BA
G-BOAD
.
.
N/C
15 Aug 94
LHR
BA
G-BOAC
.
.
N/C
16 Aug 94
LHR
BA
G-BOAE
.
.
N/C
16 Aug 94
LHR
BA
G-BOAD
.
.
N/C
16 Aug 94
LHR
BA
G-BOAF
.
.
N/C
16 Aug 94
LHR
BA
G-BOAB
.
.
N/C
16 Aug 94
LHR
BA
G-BOAG
.
.
N/C
16 Aug 94
LHR
BA
G-BOAC
.
.
N/C
17 Aug 94
LHR
BA
G-BOAF
.
.
N/C
17 Aug 94
LHR
BA
G-BOAG
.
.
N/C
17 Aug 94
LHR
BA
G-BOAE
.
.
N/C
18 Aug 94
JFK
AF
F-BTSD
.
.
N/C
21 Jun 97
DEN
BA
G-BOAF
.
.
N/C
22 Jun 97
DEN
BA
G-BOAF
.
.
N/C
21 Jul 98
JFK
AF
F-BVFC
.
.
.
21 Jul 98
JFK
AF
F-BVFA
.
.
.
21 Jul 98
JFK
BA
G-BOAD
.
.
N/C
21 Jul 98
JFK
BA
G-BOAE
.
.
N/C
22 Jul 98
JFK
AF
F-BVFC
.
.
N/C
22 Jul 98
JFK
AF
F-BVFA
.
.
N/C
22 Jul 98
JFK
BA
G-BOAC
.
.
N/C
22 Jul 98
JFK
AF
F-BTSD
.
.
N/C
22 Jul 98
JFK
BA
G-BOAD
.
.
N/C
23 Jul 98
JFK
AF
F-BTSD
.
.
N/C
23 Jul 98
JFK
BA
G-BOAD
.
.
N/C
25 Mar 12
BFI
BA
G-BOAG
.
Museum of Flight
01 Apr 12
BFI
BA
G-BOAG
.
Museum of Flight;Went aboard
Concorde Links:
Concorde SST
Concorde @ Wikipedia
About the background image. British Airways Concorde G-BOAE at the gate on the day of my flight aboard her: 24 Feb 1985. Photo: Aeromoe
---



Home Aeromoe's Flyin' and Rail Grindin' Website
BNSF Peavine My BNSF Peavine Page
Ennis Sub My BNSF Ennis Sub Page
Norfolk Southern My "Southern West District" Illinois Railfan Guide (St Louis to Princeton, IN)
Click here to send me some Airmail