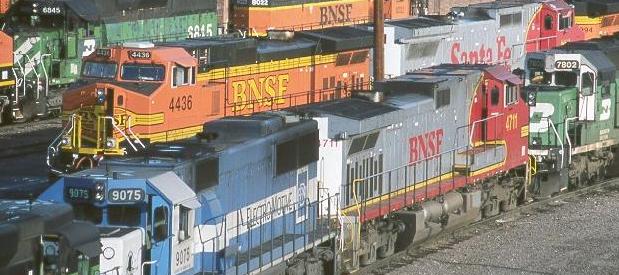 An assortment of BNSF power in Denver, CO, October 2000













MY TRAIN PHOTO PAGES:

Pages arranged by railroad:



"Canadian Pix"




"ATSF / BN / BNSF Pix"




"Passenger Pix"




"CNW / SP / SSW / UP Pix"






"Potpouri Pix"


Pages arranged by topic:



"The Ski Train"


"On The Road" ("action" shots)


"In Tha House" ("yard" & "roster" shots)



Palmer Lake, Colorado "The Joint Line"

VERY COOL TRAIN LINKS:

I want to personally thank the Webmasters of these and other railroad websites for their contributions to the hobby:



California Central Rails "excellent" links page, with LOTS of Gifs, too!!

Chris' Amstuff Page -- Yet ANOTHER incredible source for train Gifs!!


Redecker's Railroad Photos


DansDepot -- A very good source of these great animated train Gifs - a great site!!


Matts Depot -- The Premier source for train Gifs!!


Tom's SP Gif Page -- A very cool site with lots of train Gifs!!

Being new to the art / sport of railfanning, I am a newbie when it comes to photographing trains. I started seriously shooting them in late 1999. At first, I was content with shooting "roster" type photos around the northern California area. After doing some reading and further research on the web on what makes for memorable train photos, I have expanded my efforts. I have started "chasing" trains across the country side, scoping out locations to shoot trains in action. Though I've been an aviation photographer for over 20 years and listening to airband on the scanner for about 13, I'm still just getting my feet wet with the trains. I have a lot to learn about trains, especially identifying specific locomotive types and learning about train symbols. I hope you enjoy looking at these photos of some of my initial efforts.

Please feel free to comment about my train photos
E-mail Moe!
Airlines
Home