| | | | | | | | | | | |
| --- | --- | --- | --- | --- | --- | --- | --- | --- | --- | --- |
| | Date | Airline | Flight | Type | Regn | Routing | Time | Miles | Remarks | |
| Back | 8 Apr 16 | AA | 1572 | CRJ-900 | N913FJ | PHX-LAX | 01:00 | 370 mi | | |
| | 9 Apr 16 | AS | 175 | 737-990ER(W/S) | N461AS | LAX-ANC | 04:54 | 2346 mi | New city pair | Next |
2010's Index
Main Index

In early April 2016 I made a weekend trip to Anchorage to scope out some bird locations for another upcoming trip to Anchorage.
I booked this trip through the Alaska Airlines website with the northbound routing having a stopover in Los Angeles. The flight was operated by Mesa on behalf of Alaska Airlines' codeshare partner American Airlines.
Of course, I didn't get to fly in a new paint but rather a US Airways Express-painted CRJ-900.

Below is my photo of CRJ-900 N913FJ arriving from Fresno, followed by the Flight Aware screenshot of my flight to LAX.
Please scroll down for more.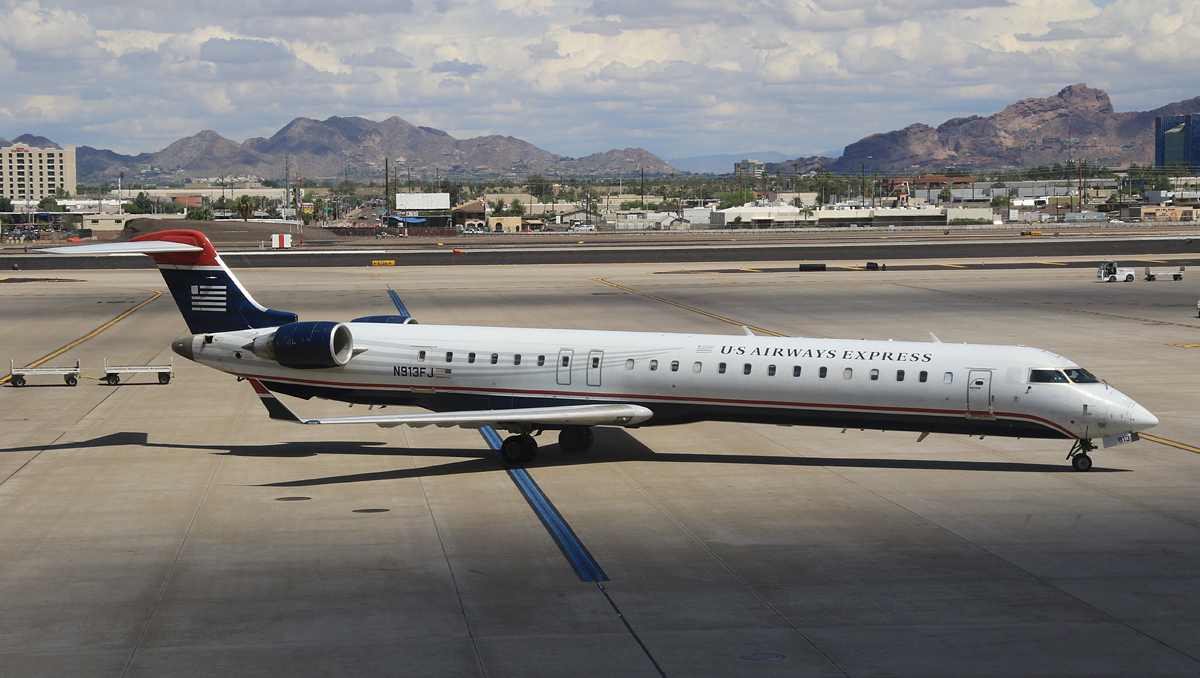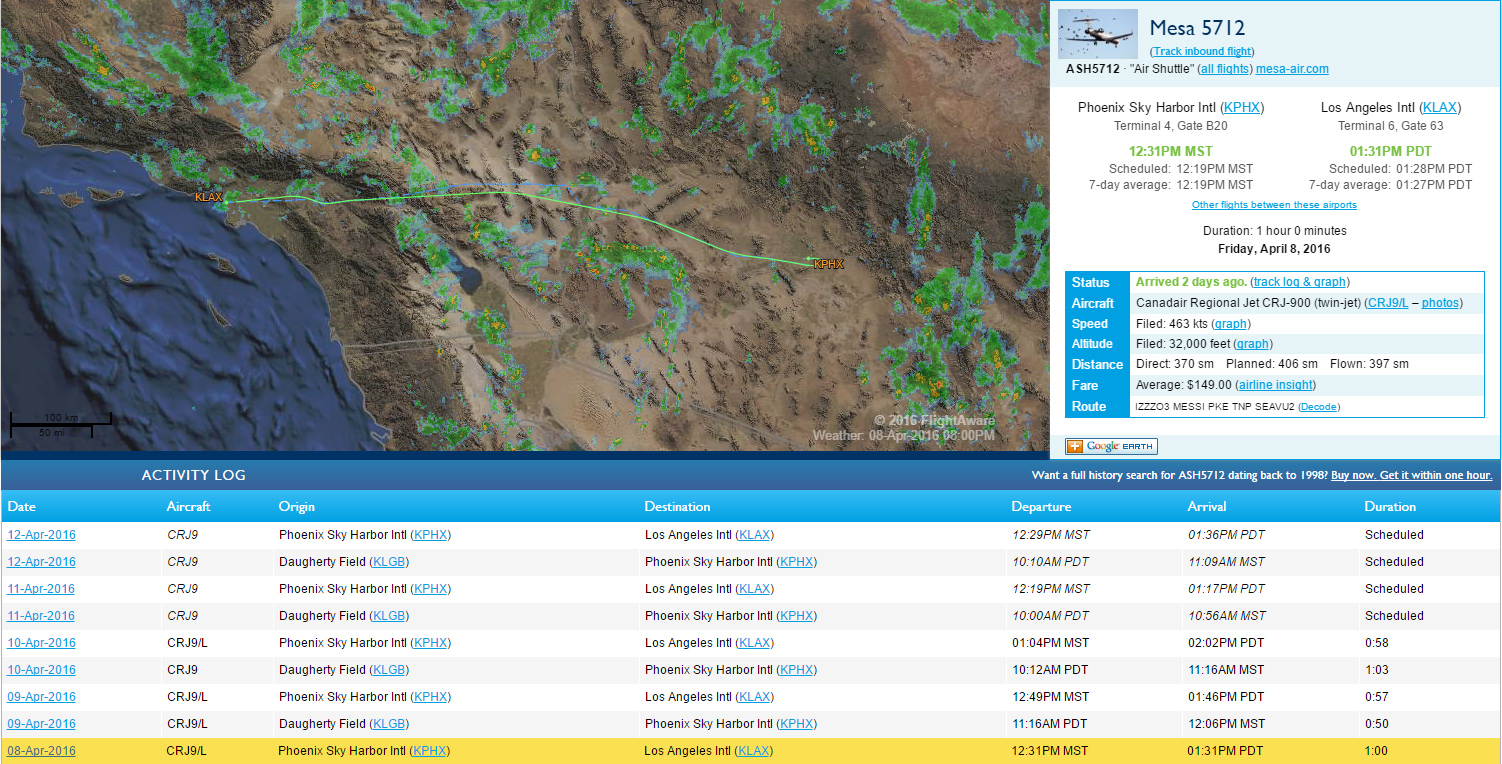 After arriving LAX I had literally the rest of the day to watch planes. My seatmate on the CRJ-900 was an American Airlines flight attendant commuting to LAX for the LHR flight later in the day. He was also an aviation enthusiast and suggested I go to the Tom Bradley Int'l Terminal (TBIT) food court and watch planes through the west-facing windows. That was the perfect suggestion / solution to pass the time during a very soggy day at LAX. Mahalo!

The suggested spot was perfect. I had a table and power to charge my phone. Taxiways S and T were right in front of me and heavy jets were parked to either side of my view.
On a clear morning this spot would be an awesome vantage point with lighting from behind. Being the cloudy day it was, I didn't have to deal with harsh lighting or shadows...just a steady parade of airliners.
Below are some photos taken during the day.

From the airbridge connecting Terminal 4 with TBIT, I watched Emirates A380 A6-EOM with interesting graphics arrive at gate 159 as EK 215 from Dubai.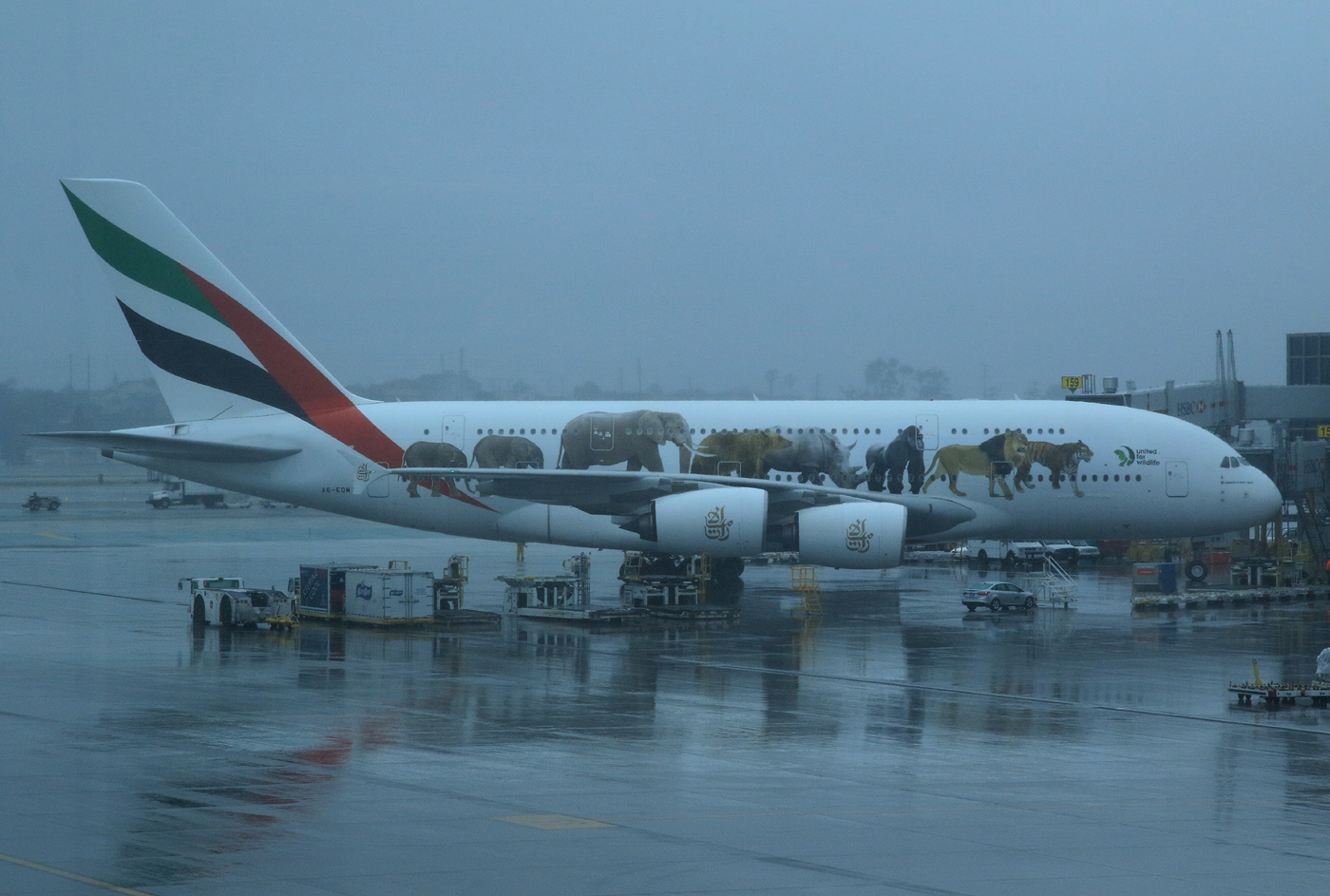 Still on the airbridge connecting Terminal 4 with TBIT, this is an overview of some of the south gates.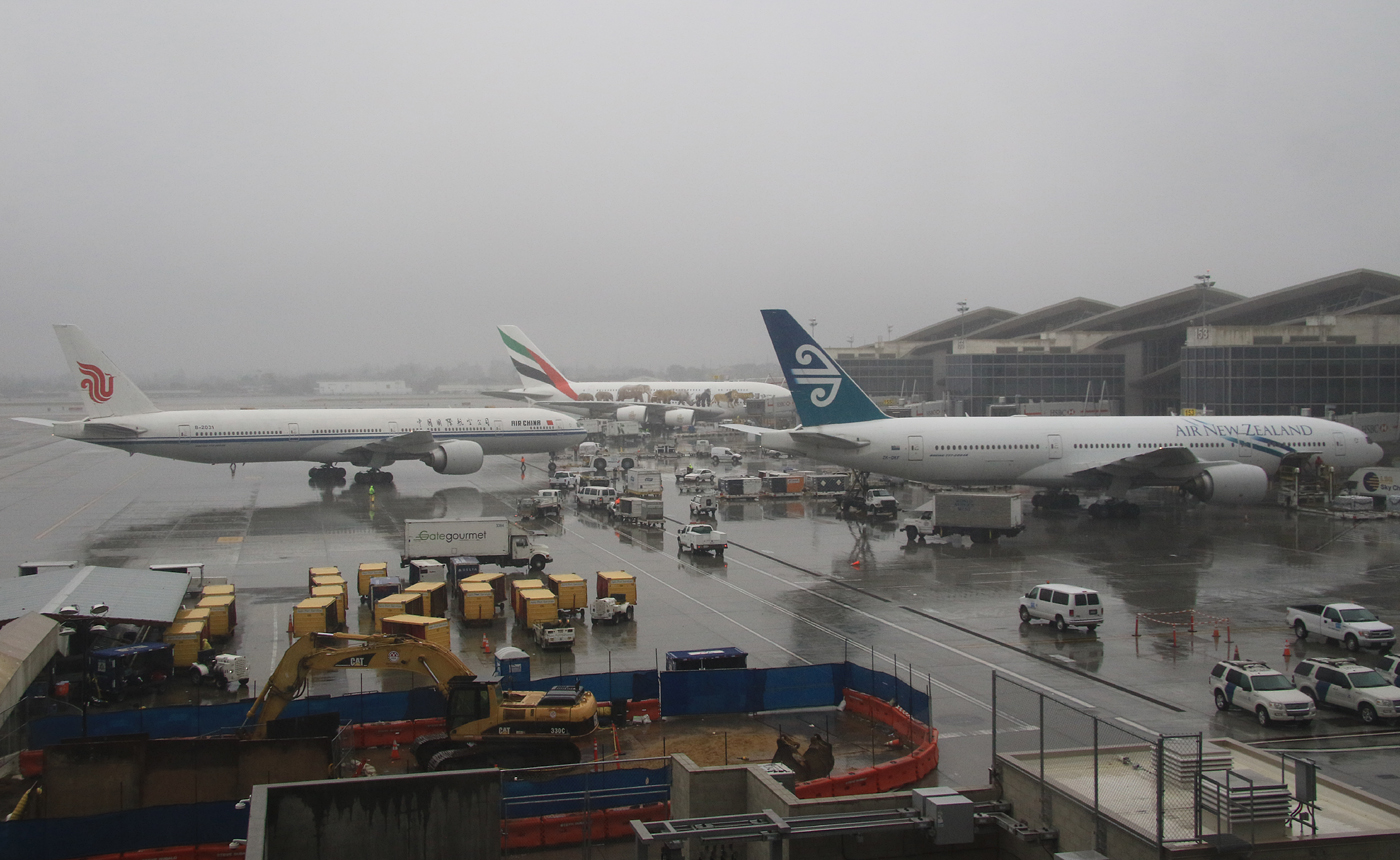 From my vantage point, Gate 130 to my right hosts Aeroflot A330-200 VP-BLY which will operate flight 107 to Moscow (Sheremetyevo) today.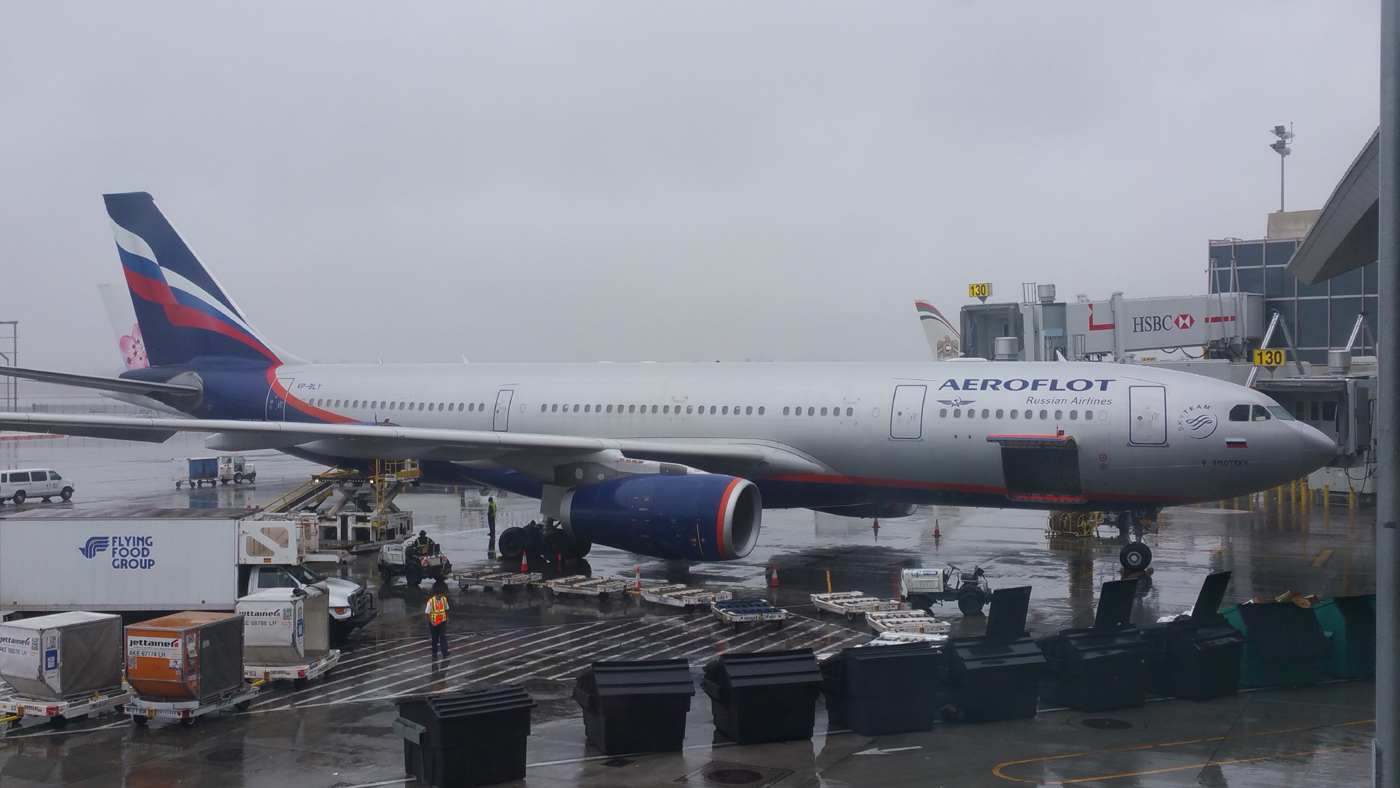 A steady stream of afternoon heavies featured most of the A380s of the day. Korean Air's HL7613 is seen below.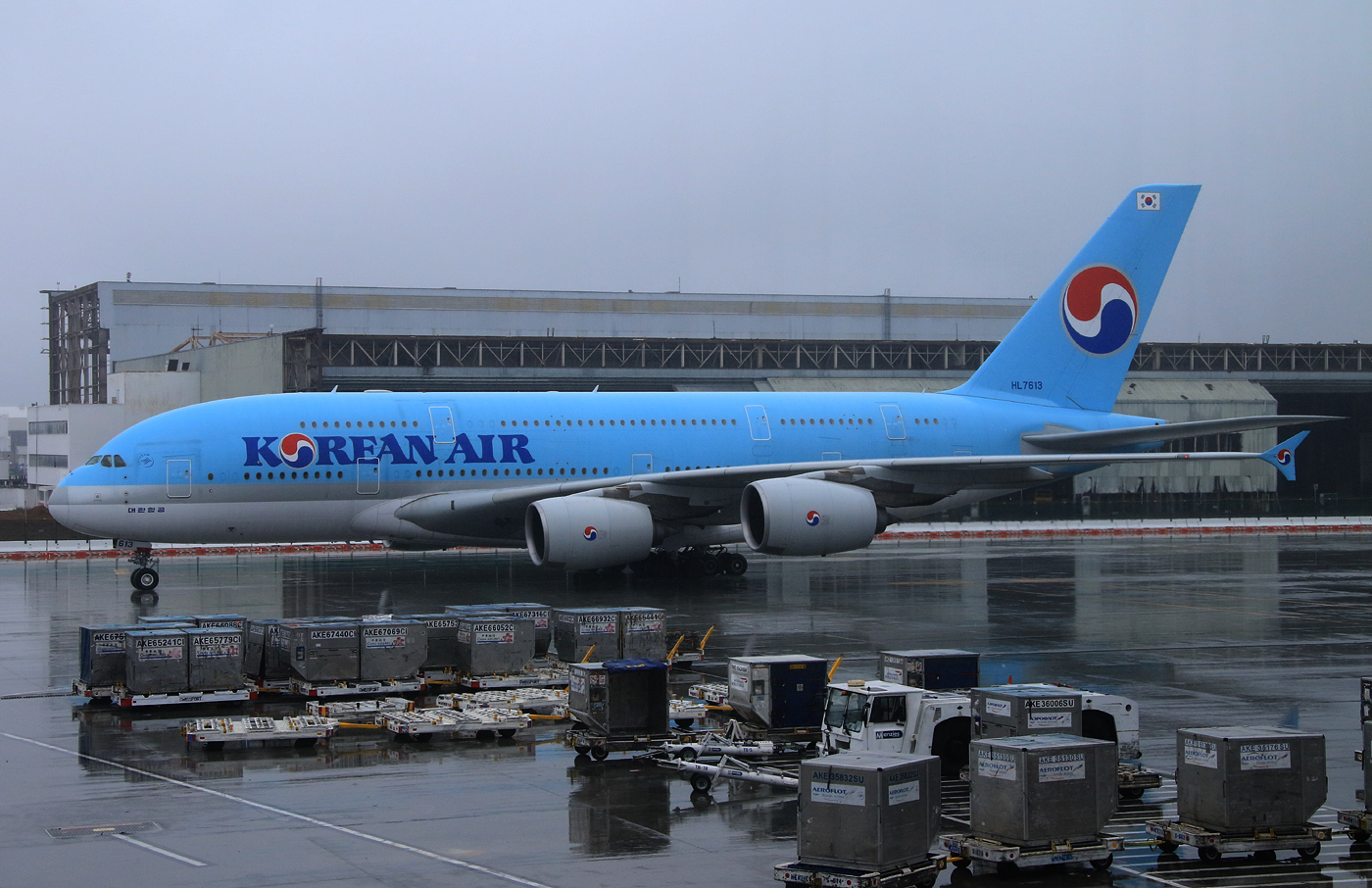 Air New Zealand operate roundtrip between AUK-LAX-LHR daily and 777-300ER ZK-OKP with Hobbit movie graphics operates the flights fairly often.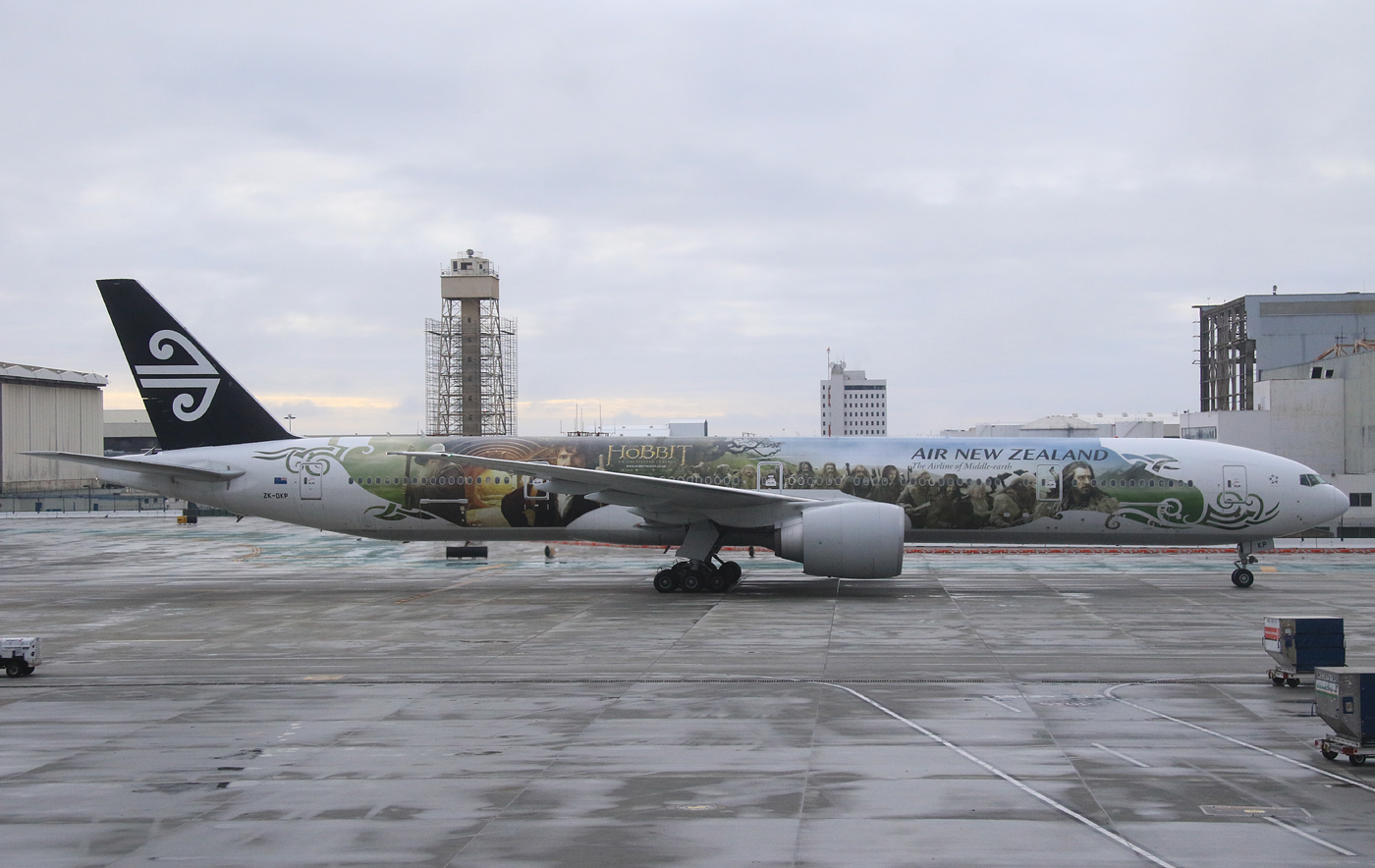 Relative newcomer to LAX with passenger services (since Jan 1, 2016), Qatar Airways 777-2DZ(LR) A7-BBH passes by TBIT. Freighter services have operated at LAX since 2015.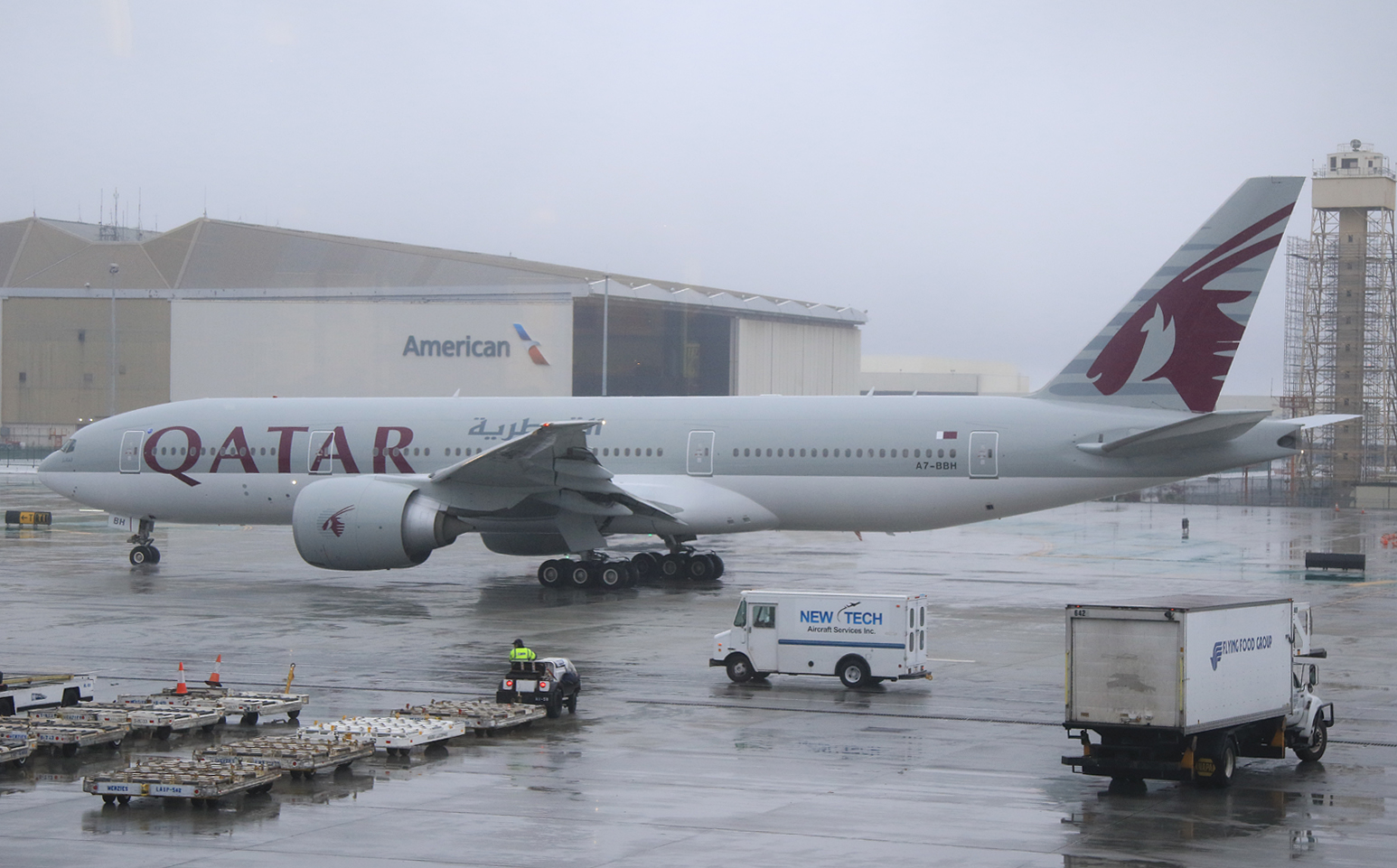 Southwest Airlines 737-800 sports a "new colors" scimitar winglet on the port side as evidenced in this photo.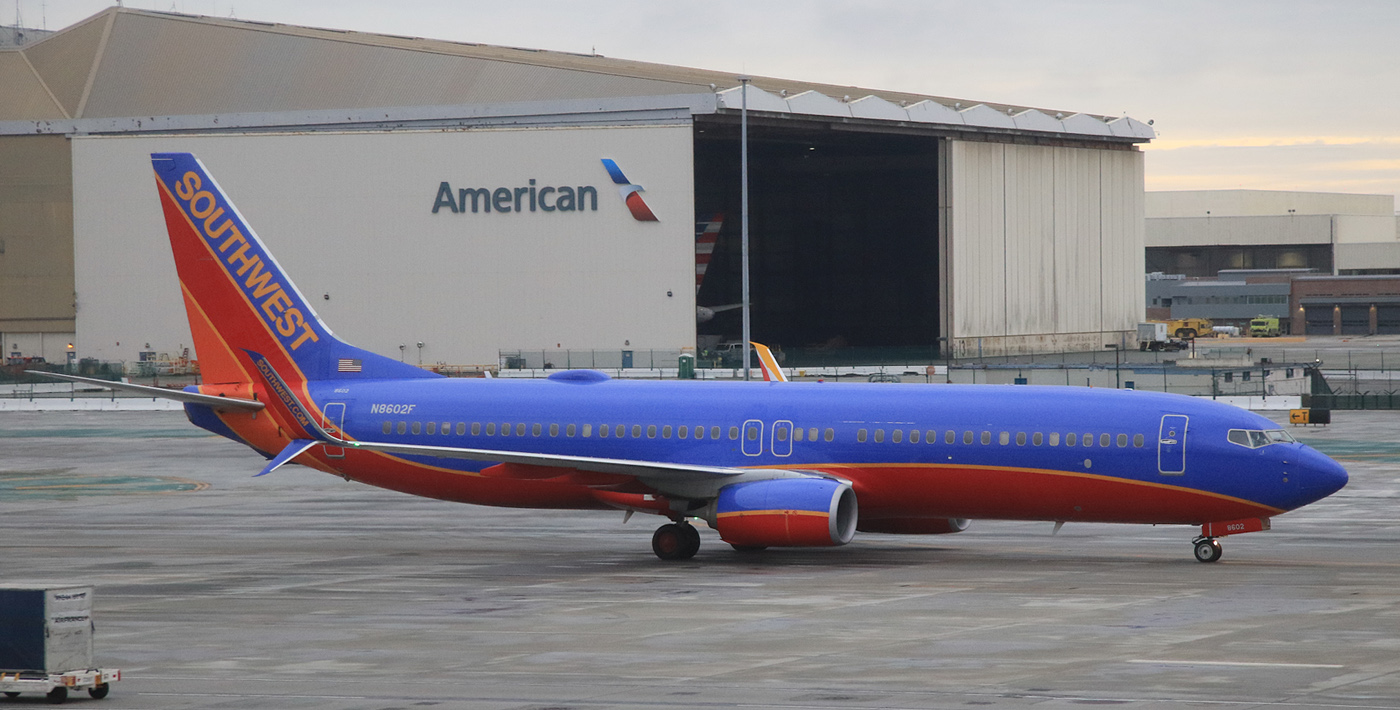 Virgin Atlantic 787-9 are now a regular visitor to LAX. Here G-VDIA "Lucy in the Sky" taxies past on the way to her gate at Terminal 2.
Many of Virgin Atlantic's planes are christened with a feminine-themed name and often registered appropriately.
For example the "DIA" in G-VDIA likely has something to do with diamonds thus paying homage to the Beatles song Lucy in the Sky with Diamonds.
Check out this link to planespotters.net to view the current and historical fleet of Virgin Atlantic, complete with aircraft names.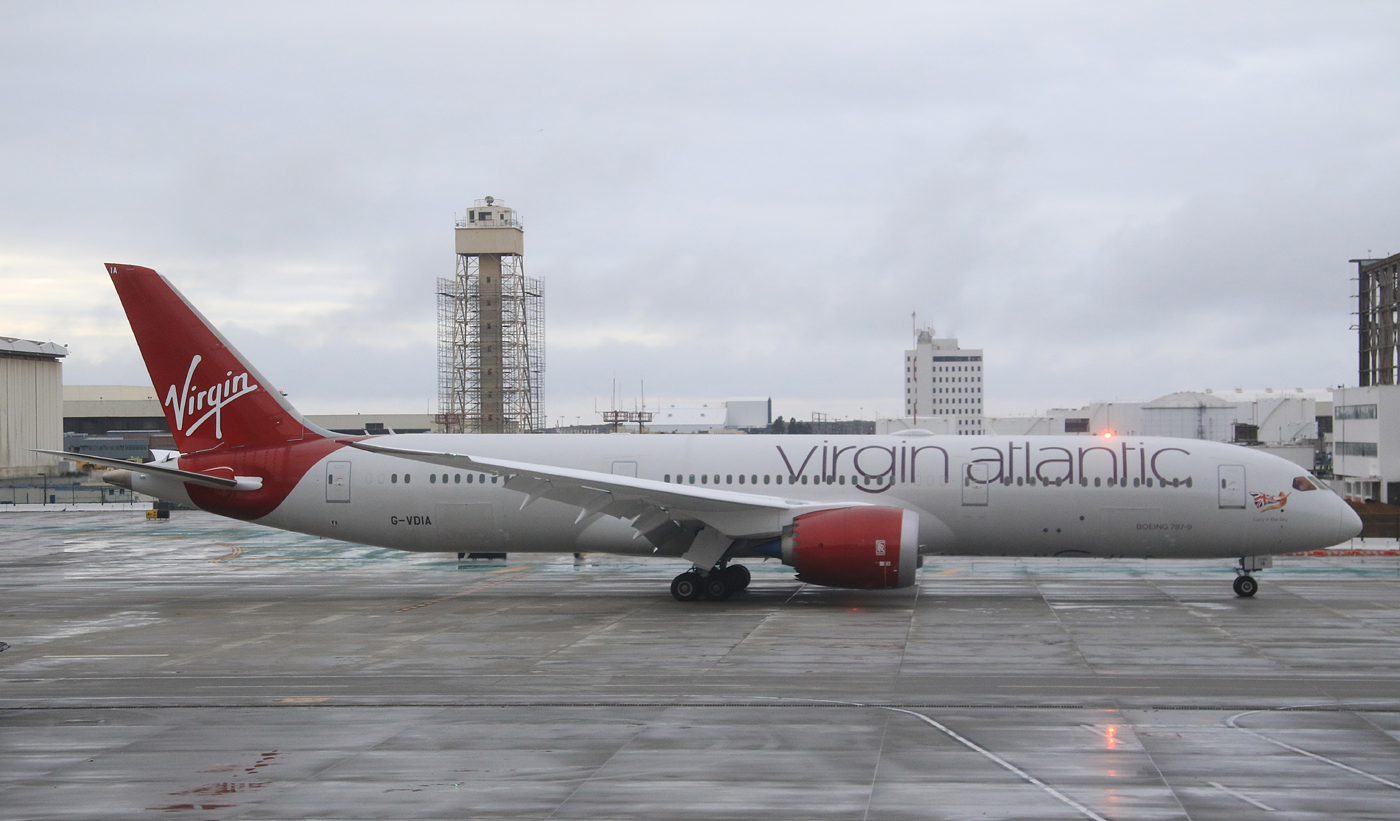 As of 2016, no less than five airlines (AA, BA, NZ, UA, VS) operate LHR-LAX return services. Here we see British Airways A380-841 G-XLED arriving as flight BA 269.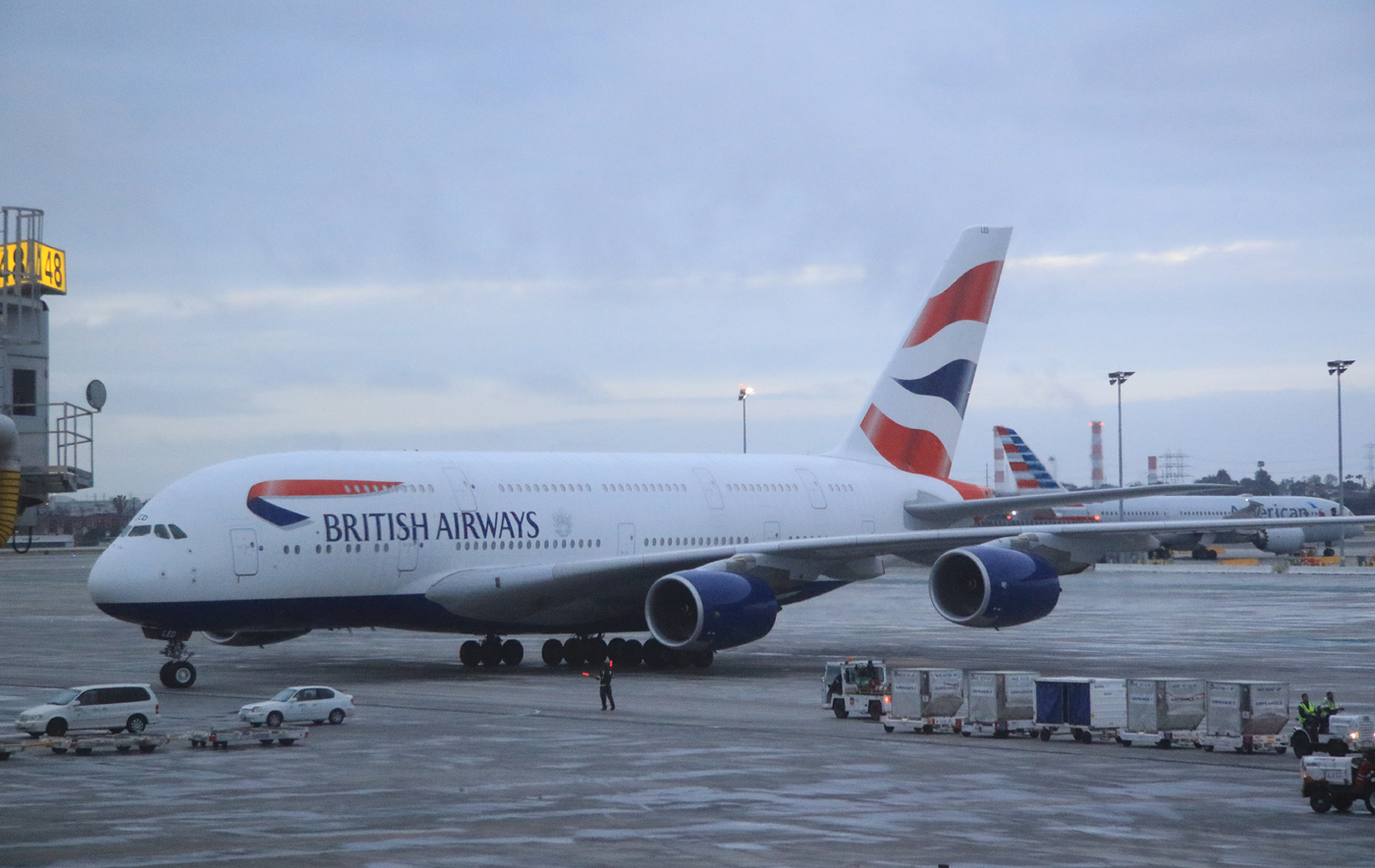 This departures board features dynamic graphics on either side of the flight information. This view at 10:00pm advertises Shanghai.
It has already been a long day for me and I still have two hours until my Alaska Airlines departure from Terminal 6...a 10-15 minute stroll through the underground walkway that has existed since the early days of LAX.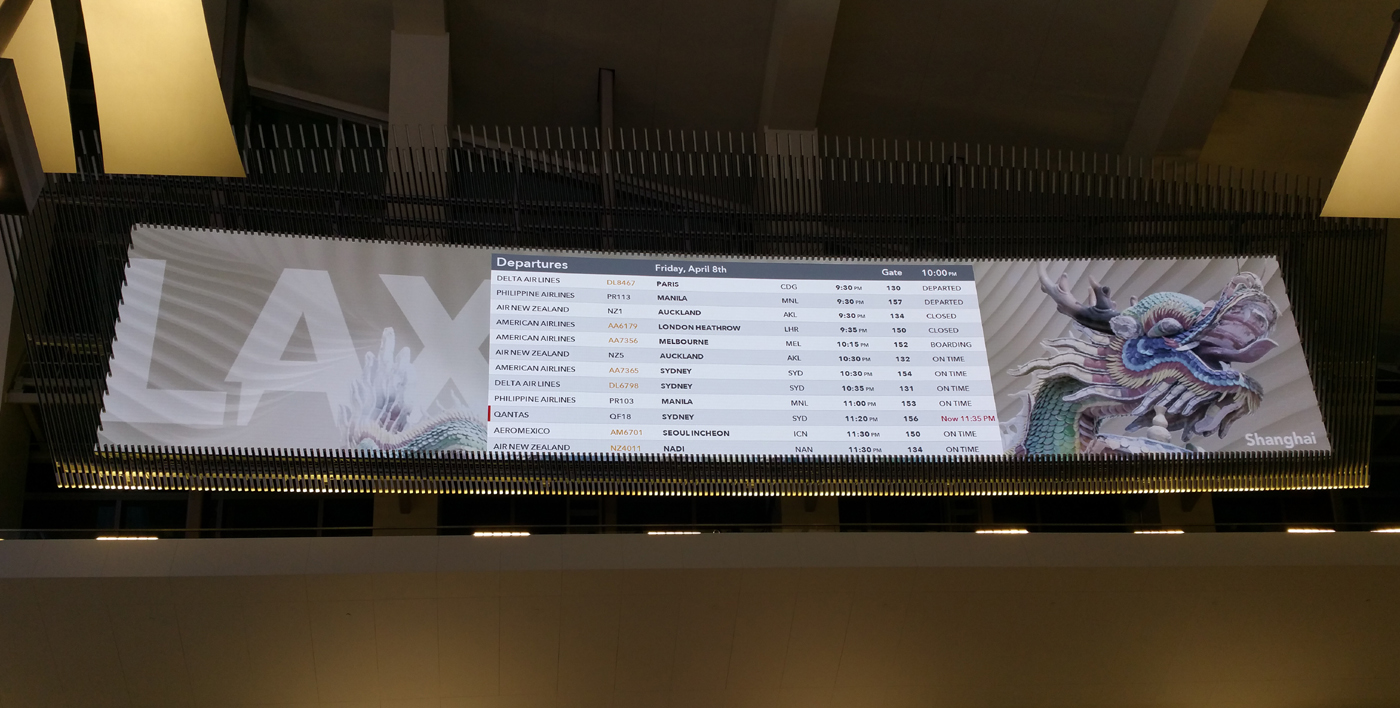 My flight to Anchorage was scheduled to depart at 1155pm and we were actually off the ground at 1217am on the 9th.
Here we see my aircraft N461AS at the gate prior to our departure. Below that is the Flight Aware screenshot.
Please scroll down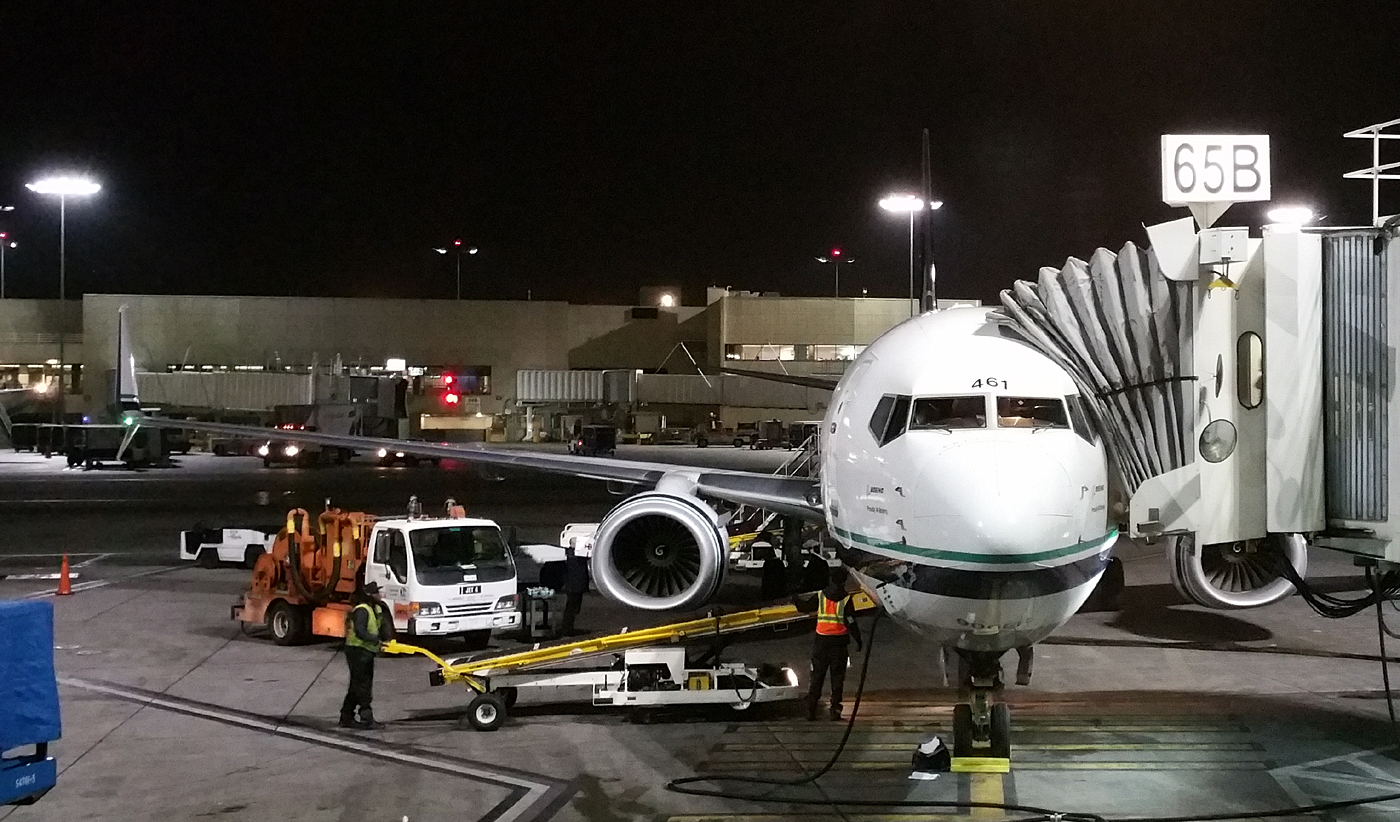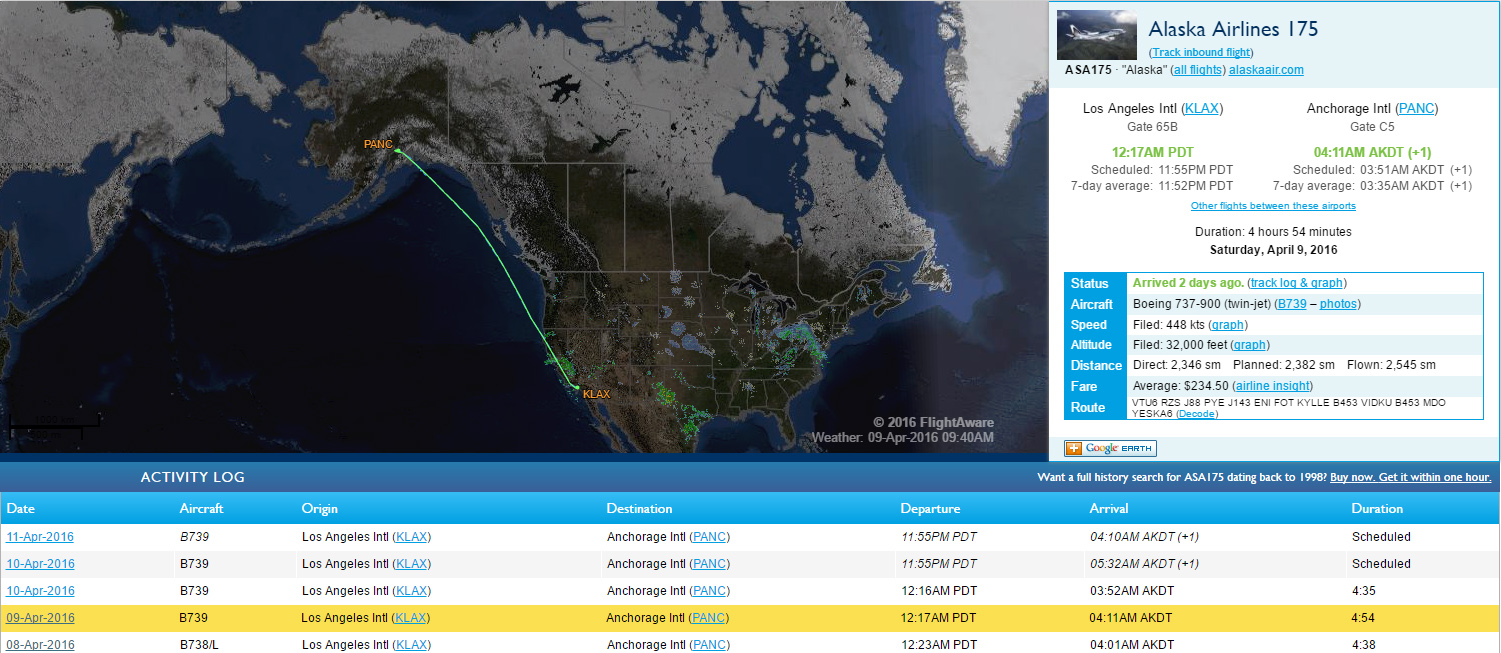 2010's Index
Main Index